// breadcrumbs go here if needed ?>
About us
Our mission
The IES mission is to help bring about sustainable improvements in employment policy and human resource management.
We achieve this by increasing the understanding and improving the practice of key decision makers in policy bodies and employing organisations.
An overview
IES was established in the financial year 1968-69 to be an independent, national centre of expertise on productivity, manpower planning and labour market change. Since that time it has expanded and diversified to become a leading UK independent centre for research and evidence-based consultancy in employment, labour market and human resource policy and practice. It is not-for-profit, its activities being funded through research and consultancy commissions, and from its corporate membership programme.
IES has around 40 multidisciplinary staff plus an extensive network of international associates, and its expertise is available to all organisations through research, consultancy, publications and its website.
The Institute's Board of Trustees act in a governance role and provide strategic oversight to the work of the Institute.
What does the research landscape in the UK look like and where does IES fit? The Alliance for Useful Evidence has produced a handy infographic.
IES Annual Review 2017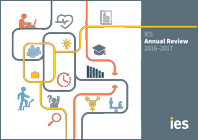 IES Annual Snapshot 2017