// breadcrumbs go here if needed ?>
Labour Market Statistics, June 2020: IES analysis
|
Institute for Employment Studies
|
Jun 2020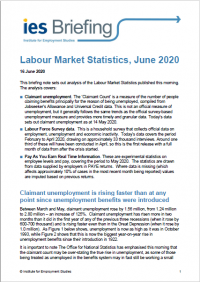 This briefing note sets out analysis of the Labour Market Statistics published this morning (16 June).  This covers claimant unemployment data to 14 May 2020, Pay As You Earn tax data to May and Labour Force Survey data from February to April 2020.
Today's figures show that claimant unemployment – a measure of all of those who are unemployed and claiming social security benefits – has risen by 1.6 million in two months, to 2.8 million.  This is the highest level since 1993, 1.2 million higher than the last recession and the largest increase since unemployment benefits were created nearly a hundred years ago.  We estimate that based on applications for benefit in the last month, then claimant unemployment will be around 3.1 million in June – potentially beating the previous highest ever level set in 1986.
Rising unemployment has also been accompanied by a collapse in job vacancies – from around 800 thousand before the crisis to just 320 thousand in the single-month estimate for May.  This means that there are now 8.5 unemployed people competing for every job opening, compared with just 1.5 before this crisis began.  This picture also varies hugely across the country – with our analysis of online adverts for the Joseph Rowntree Foundation suggesting that in many ex-industrial, inner city and coastal areas the picture is far worse. 
These large rises in claimant unemployment are not (yet) appearing in the official survey-based measures of the labour market.  This Labour Force Survey (LFS) data covers February to April, so it lags the claimant count, but is only showing relatively smaller falls in employment in April (down by 300 thousand), which is entirely explained by falling self-employment.  Instead, the LFS is reporting very large reductions in working hours (down by 8% on the quarterly average, which is equivalent to 25% in a single month).
Our view is that while the claimant count likely overstates the level of unemployment in May, based on the LFS and PAYE data it is very likely that worklessness has risen by over a million and that this will quickly feed through into higher unemployment as people start looking for work (as has likely already happened).  Non-claimant youth unemployment is also likely to significantly add to the numbers seeking work. Looking ahead,there remains a very real risk that a 'second wave' of unemployment could hit us as the Job Retention Scheme starts to unwind.
Therefore we are calling with over 200 business leaders, politicians and charities for:
■    An urgent and temporary stimulus to kick-start hiring and support job retention over the summer, ideally by cutting employer National Insurance;
■    Doubling of the size of our employment services, so that everyone gets the help that they need to find new work; and
■    Investment now so that we are ready for record long-term unemployment next year – in particular can guarantee that all young unemployed people will have the opportunity of an education place, apprenticeship or job.