// breadcrumbs go here if needed ?>
Labour Market Statistics, July 2020: IES analysis
|
Institute for Employment Studies
|
Jul 2020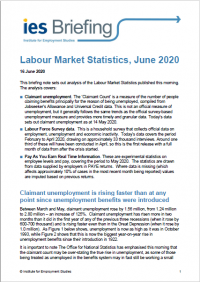 This briefing note sets out analysis of the Labour Market Statistics published this morning (11 July).  This covers claimant count data to 11 June 2020, Pay As You Earn tax data to June and Labour Force Survey data from March to May.
The data clearly shows that the jobs market continued to weaken during the lockdown and that there are so far very few signs of any recovery. 
Even with the government's emergency measures to protect jobs and incomes, it appears that paid employment fell by at least a million between March and June, with 650 thousand fewer paid employees and likely a similar number of people who had previously had earnings from self-employment.  This is also reflected in the changes to the claimant count since March – with an overall rise of 1.4 million, of whom 1.25 million are recorded as having no income from work.  A recent downward revision in the count for May, and slight fall in the month to June, appears to reflect claimants leaving benefit due to receiving other government income support, rather than any improvement in the real labour market.
The headline Labour Force Survey measures are now showing small falls in employment – driven by falling self-employment – which is so far feeding through into increases in the number of people who say that they want a job rather than that they are actually looking for one (which saw a record quarterly rise, to 2.1 million.) 
Today's figures for young people are particularly concerning, showing both an increase in the number of young people who are not in full-time education or employment, and a further rise in the numbers on the claimant count – even while the number of older claimants has fallen.  Just over one in eight of the youth labour force are now on the count, double the rate for older people.
There are some positive signs in today's figures that some of those who were previously furloughed had started to leave furlough and return to work and that this had not yet fed through into any fall in employment.  However 6.4 million workers remain away from their jobs, which has translated into sharp falls in hours worked and smaller declines in real pay.
Perhaps of most concern in today's figures however is that hiring appears to have collapsed – with new job starts falling by nearly a half since the crisis began, very low off-flows from the claimant count for those out of work, and vacancies down by three fifths.  This reduced hiring means that the economy has very little room to absorb the impacts from any increase in job losses in the summer, and is bad news for those currently out of work or looking to enter the labour market (particularly young people). 
This all reiterates that the government will need to act fast to implement its plan for jobs – and with job losses very likely through the autumn and winter, if hiring doesn't start to bounce back soon then we may yet need more measures to stimulate new hiring.