// breadcrumbs go here if needed ?>
Healthy Workplaces Good Practice Awards
28 Mar 2017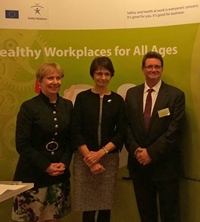 Last week Stephen Bevan, IES head of HR research development, presented at the Healthy Workplaces Good Practice Awards in Brussels, organised by the European Agency for Occupational Safety and Health (EU OSHA).
Professor Bevan is chairing the Jury which has been assessing entries from over 40 European employers for Good Practice Awards in the field of healthy workplaces for older workers. He is pictured here with Dr. Christa Sedlatschek, Director of EU-OSHA (left) and Marianne Thyssen, EU Commissioner for Employment, Social Affairs, Skills and Labour Mobility, who presented the awards to the winning companies.
The overall award was presented to SAP (Netherlands) with a commendation to Toyota Materials Handling. Both companies had introduced innovative approaches to improving the safety and health of older workers and are making imaginative changes to working practices to ensure that older workers can extend their working lives in a healthy and productive manner.