// breadcrumbs go here if needed ?>
Being a 'good' coach - who you are as important as what you do
11 Aug 2016
Successful coaching depends as much on who is providing the coaching as on what they do, says research from the Institute for Employment Studies (IES).
The Institute's study, What makes a coach effective?, sought the opinions of those who have been coached (coachees) and coaches themselves to find out what they thought made a difference to achieving successful outcomes.
While employees valued coaches who were accepting, calm, organised and self-confident, they also felt it was important for a coach to have experience in the same industry. However, they did not necessarily feel a coach had to be drawn from within the employee's organisation.
Coachees also believed that working with a coach who shared their values was a key factor in building a compatible coach-coachee relationship.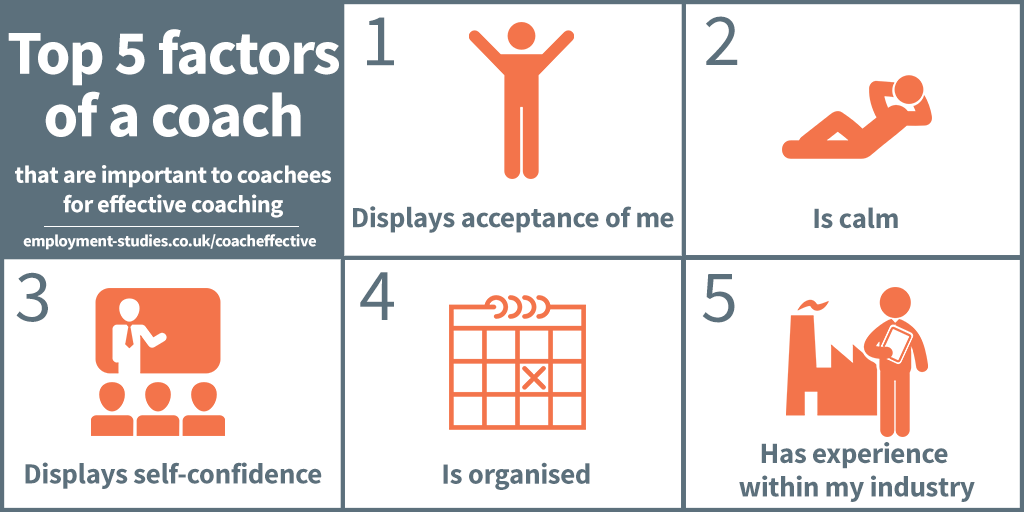 In contrast, coaches say the background of the coach makes no difference to outcomes. Coaches placed more value on the abilities and attitude of those they were coaching in building a compatible relationship. They listed the willingness of the employee to be coached; openness to learning and change; reflective ability; and commitment to the process, as important, alongside the abilities of the individual coach.
The paper draws on research carried out by authors Dr Alison Carter, principal associate at IES, and Dr Anna Blackman and Rachel Hay from James Cook University, Australia. The team held discussion groups with 146 coaches and HR professionals in 10 countries during international coaching conferences and webinars.
The same researchers conducted the earlier International Coaching Effectiveness Survey, with responses from 296 industry professionals who had experienced coaching in 34 countries. The majority (89%) of survey respondents had found the process to be effective or very effective, and most were being coached by someone from outside their organisation.
Evidence from existing research sources was also reviewed to understand existing discussions on what makes a 'good' coach.
Alison Carter, IES principal associate, said:
'We found that pairing employees with coaches with a background in the same industry or profession can give the coach greater credibility in the eyes of coachees, which may in turn enable coachees to engage with the coaching process more quickly.
'Organisations also need to understand which behaviours make for effective coaching within their own organisational context so that they can advise prospective coaches accordingly.'
ENDS
Notes to editor
Discussion groups with coaches and HR professionals were held at international coaching conferences and webinars between June 2014 and May 2015.
Coachee data was drawn from the International Coaching Effectiveness Survey carried out between April 2013 and April 2014.
This paper is the third in a series from the Coaching Effectiveness study, following on from Barriers to successful outcomes from coaching and Coaching for effectiveness.
The graphic in this article describing the top five factors of a coach according to coachees may be reproduced in relation to this research, under a Creative Commons, Non-Commercial, No Derivatives license.
The Institute for Employment Studies
The Institute for Employment Studies is the UK's leading independent centre for research and evidence-based consultancy in employment, labour market and human resource policy and practice. It is apolitical and not-for-profit, its activities being funded through research and consultancy commissions, and from its corporate membership programme. The Institute aims to improve employment policy in the UK and internationally by carrying out authoritative research of practical relevance to policy makers and those responsible for implementing policy programmes and initiatives.
IES tweets from @EmploymtStudies
About the authors
Dr Alison Carter
Alison is a Principal Associate at Institute for Employment Studies (IES) in UK. Her current research includes mindfulness applications in the workplace. She also writes, speaks and consults on a range of HR, OD and coaching issues. Alison was a founding Director of European Mentoring and Coaching Council (EMCC), Co-Chair of the 2nd Harvard International Coaching Research Forum, Chartered Fellow of CIPD and member of the US Academy of Management.
Dr Anna Blackman
Anna is a Senior Lecturer in the College of Business, Law & Governance at James Cook University in Australia. Her research spans tourism, rural and regional businesses, FIFO, IT and climate change. Anna is a Queensland State Councillor for the Australian Human Resources Institute (AHRI), a member of EMCC and the Australian Institute of Management.
Rachel Hay
Rachel's work includes business coaching, marketing and rural affairs. Her current research is on the benefits to rural women and families from using technology.