// breadcrumbs go here if needed ?>
Thinking about mindfulness?
1 Apr 2015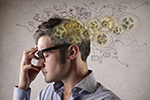 We recently ran a very popular event on Mindfulness and one of the event speakers, Liz Hall, is a trained mindfulness teacher, speaker, Senior Practitioner coach and writer. We are very fortunate to have Liz join IES as an Associate.
Mindfulness techniques are being promoted in the management press as the answer to changing the way people think, feel and act in the workplace. The claims made are considerable and growing: that it reduces stress and sickness absence; re-energises employees and improves personal resilience; enhances an individual's ability to cope with change and uncertainty; increases creative thinking; and increases socially responsible behaviour at work.
If you are thinking about how the principles of mindfulness could be applied and bring improvements to your organisation, or you would benefit from the support of a Mindfulness Coach let us know and we will connect you with Liz.
Call Emma Knight on 01273 763 406 or email emma.knight@employment-studies.co.uk