// breadcrumbs go here if needed ?>
Engage for Success - where next?
1 Jan 2013
Dilys Robinson, Principal Research Fellow

Many of you will have heard of the 'Engage for Success' (EFS) movement, and may even be active participants. Born out of the 2008- 09 MacLeod Review into Employee Engagement[1], EFS has grown into a massive pro bono movement incorporating 700 practitioners (HR professionals and managers) and 300 gurus (academics and consultants).
IES has been actively involved in EFS throughout. We are represented on the guru steering group and have supplied and reviewed evidence for the EFS website, www.engageforsuccess.org, which is a valuable source of material and discussion on the engagement theme.
In November 2012, EFS 'went live' via a CEO breakfast (a large gathering of the UK's most influential business leaders), a lead letter in The Times, the unveiling of the EFS website, and a major conference featuring such luminaries as Archie Norman and the Minister with responsibility for employee relations, Jo Swinson.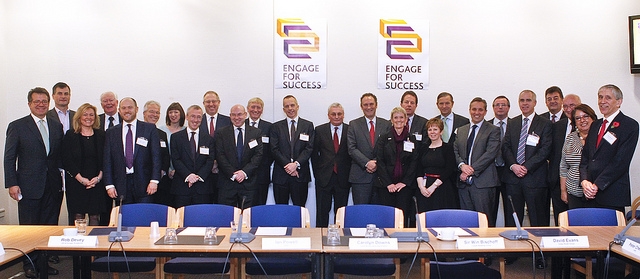 © Department for Business, Innovation and Skills.
So where next for EFS?
The movement looks set to expand and involve ever-greater numbers of practitioners and experts.
Perhaps its biggest challenges are:
Finding common ground between academics (who tend to focus on engagement with the job) and practitioners (who, not surprisingly, are more interested in engagement with the organisation).
Bringing the sceptics on board (the 'Nailing the Evidence' report on the EFS website should help).
Involving more people outside HR - notably senior leaders and SME owner/ managers.
Supplying the website content pipeline.
IES is helping with the last point by facilitating a special interest group (SIG) on the future of engagement (SIGs aim to provide challenge and thought-leadership via white papers for the website). If you have a view about the direction in which engagement is, or should be, heading, email dilys.robinson@employment-studies.co.uk or tweet us @employmtstudies
Footnotes
[1] MacLeod, D. and Clarke, N. (2009), Engaging for Success: Enhancing Performance through Employee Engagement. Department for Business, Innovation and Skills. London.
Further reading
Dilys Robinson has also written a chapter on the future of employee engagement for IES Perspectives on the HR Year Ahead 2013 report
IES has published several reports on the subject of employee engagement:
We will also be publishing two further reports later this year: