// breadcrumbs go here if needed ?>
Further decline in EU workers prompts fears of labour shortages
16 Aug 2018

Jim Hillage, Director of Employment Policy Research
The number of EU nationals[1] working in the UK has fallen by 86,000 over the past year, to 2,279,000 in the three months from April to June 2018, signalling a clear reversal of the trend for increasing numbers of workers from the European Union Member States coming to work in the UK. Given this decline, it is interesting to note how the number of workers coming to work in the UK from the EU has changed over time, and what this might mean for the UK's labour market, and economy, in the light of Brexit.
Over the past 25 years, while employment in the UK generally has risen by almost a quarter, the number of overseas nationals working in the UK has risen by 380 per cent – with most of the rise driven by workers from the EU (see chart below).
Since 1997 the number of workers with EU nationality working in the UK has risen from 437,000 to the current peak of 2,378,000 in July to September last year, a more than fivefold increase, from which the number has now fallen according to the latest data from the Office for National Statistics (ONS). Over the same period, the number of non-EU nationals rose quickly in the 1990s and early 2000s, has for the last 10 years hovered around 1.2 million – an almost fourfold increase on 1997 – and, in recent months, has remained fairly constant, in contrast to the decline in the numbers of EU workers.
Chart 1: Change in UK employment by nationality, 1997 to 2018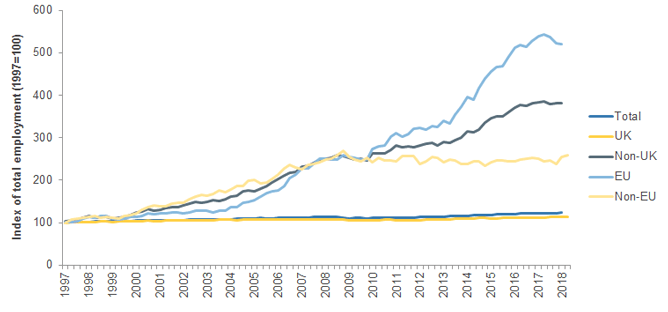 Non-UK nationals still comprise a small minority of the UK workforce – around 11 per cent in total, with around seven per cent of the UK workforce from the EU and four per cent from the rest of world (see Chart 2).
Chart 2: Proportion of the UK workforce that are EU or non-EU nationals, 1997 to 2018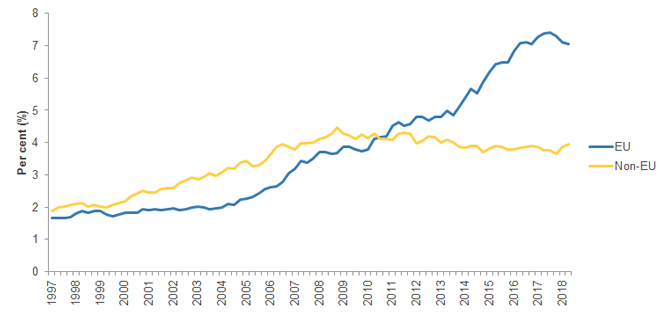 So, if the number of EU nationals continues to decline, what will be the impact?
In recent years, EU nationals have proved to be an important source of labour supply in certain sectors and occupations. For example, they comprise at least 10 per cent of the workforce in manufacturing and hospitality compared with seven per cent overall and are also over-represented in transport and storage and in administration and security services. By contrast they are less likely to work in public administration, education and health.
In terms of jobs, EU workers tend to work in less-skilled roles, such as machine operatives, and in elementary occupations such as cleaning, caretaking and portering. EU nationals also comprise a significant proportion of the workforce in some highly-skilled areas. For instance, figures from the Royal College of Veterinary Surgeons (RCVS) show that 20 per cent of the UK veterinary workforce is made up of vets who graduated at EU universities. In this area, IES is working with the RCVS to estimate the impact of leaving the EU on the sector.
Fewer EU workers means a decline in labour supply at a time of unprecedented labour demand. UK vacancy rates are the highest since comparable records began in 2001 and the Bank of England, in its most recent report, noted limited spare labour capacity with survey measures of firms' recruitment difficulties at or above pre-2008 levels.
These pressures are only likely to rise. As Brexit nears and sterling continues to fall in value against the euro, EU workers are increasingly likely to leave the UK. Immigration controls currently limit the potential for further non-EU migration and record low levels of UK unemployment suggest that UK workers would also be unable to fill that gap.
If the demand for labour continues at current levels (and there must be quite a big 'if' associated with that statement, given the underlying weakness of GDP growth), employers will have to either increase wages and/or otherwise improve their employment offer. Alternatively, they will need to get more out of their existing workforce, in terms of reducing any under-employment and increasing training, or search out alternative sources of labour supply from more 'latent' talent pools, such as older workers, people with disabilities or other groups with relatively low employment rates.
---
[1] EU nationals are here defined as those from the 27 EU Member States.
---
Any views expressed are those of the author and not necessarily those of the Institute as a whole.
IES Brexit Observatory
Read more on the impact of Brexit on employment