// breadcrumbs go here if needed ?>
Coaching for HR, OD and L&D people
You have probably spent a lot of time setting up coaching programmes for other people, and yet HR people don't often get the benefits of coaching for themselves. With this in mind, we have developed a programme that is specifically for you and your HR (or OD, or L&D) colleagues.
Read about our individual coaching offer below and please contact Emma Stewart-Rigby to discuss your requirements further.
What we offer
We will tailor a specific programme to your particular needs, but we can offer the following options:
Between six and ten 1:1 face-to-face coaching sessions per individual.
Sessions typically lasting two hours.
The flexibility of additional support by alternative means (telephone and email).
Use of psychometric or 360 degree feedback tools (if appropriate).
Access to our online library of HR research.
Team or group sessions as well as one-to-one coaching.
Why focus on HR people?
The HR, OD and L&D functions are in the midst of fundamental changes to their structure and role. The introduction of shared services, employee 'self service' and continued outsourcing, are seeking to drive down costs and improve service quality.
At the same time, there is the aspiration of concentrating on higher value, more strategic activities so that HR can earn its place as a 'business partner'.
For those remaining in the HR and development functions this has meant:
confusion and uncertainty about career paths;
difficult transitions for individuals working in entirely new roles, such as business partner, internal consultant, project manager or change agent;
a challenge to design new arrangements and then make them work; and
many people wondering how to be 'strategic'.
HR functions are traditionally good at providing and allocating organisational resources to support others, but poor at allocating resources to themselves.
We believe that it is time to change this. HR people deserve expert support too, and IES is at hand to help individuals make these role transitions.
The HR function benefits as more strategic ways of working are embedded and targets achieved.
The IES coaching model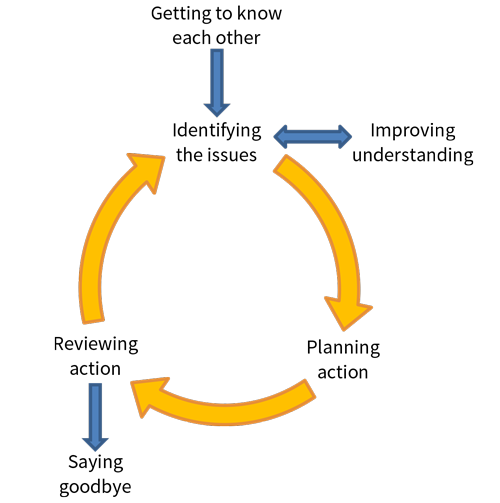 Why IES?
We are uniquely well-placed to support HR and development specialists because we combine expert knowledge about different aspects of HR with the coaching skills to help individuals reflect on the bigger picture and what they can achieve.
Our coaches have worked with HR directors, managers and business partners nationwide using our own coaching model based on research into what effective coaches actually do (as opposed to what the textbook models say they do).
All our coaches are highly-qualified individuals that understand the psychology of coaching relationships, and, critically, have a pragmatic approach based on personal experience of working at senior levels in HR, training or OD.
All our coaches are members of the European Mentoring and Coaching Council and subscribe to its code of ethics.
For 50 years, IES has undertaken research and consultancy on HR issues and worked with HR professionals in organisations. We understand the demands of its various purposes, service users, structural models and the pressures this puts on the people who work within it. We also understand what it needs to deliver and the evidence base around that delivery.
Contact us
We want to hear from you. Please contact Emma Stewart-Rigby to discuss your own requirements and how IES coaching can help your development.