// breadcrumbs go here if needed ?>
Trials Unit
Our Trials Unit brings together expertise across IES from different research perspectives and subject disciplines, to share best practice and use the most robust counterfactual designs to get to the heart of understanding and evaluating interventions. This includes our work in randomised controlled trials (RCTs) both advising on design and the set- up phase as well as carrying out impact evaluations, and implementation and process evaluations. It also includes our work on other quasi-experimental designs such as matching designs using techniques such as Regression Discontinuity Designs, Propensity Score Matching and Difference in Differences.
We have worked for government departments, What Works Centres and sector specific funders across employment, HR and education and skills such as Department of Work and Pensions, Department for Education, Education Endowment Foundation, What Works for Children's Social Care, The Sutton Trust, Esmeé Fairbairn Foundation, Cranfield University School of Management and RSSB. 

What are RCTs? 
Randomised controlled trials or RCTs are considered to be the 'gold standard' in robust methodology to examine a causal link between an intervention (such as a classroom training programme or an employment interview training scheme) and one or more outcomes (such as children's literacy outcomes or job seekers employment status).
An RCT randomly allocates individuals (or groups such as schools or employers) to two (or more) groups using a statistical method which is a little bit like a lottery. In the most common design of an RCT, some of those individuals will make up an 'intervention' group whereby they receive the programme (or intervention) being evaluated. The other individuals will make up a 'control' group whereby they usually continue to do what they have been already doing (known as 'business as usual'). The programme is given to the intervention group and at the end of the programme the two groups are measured on an agreed outcome and the two groups are compared to see if there is a difference on average between the intervention and control groups.
If there is a difference then this can be attributed to the programme (the causal link), because the randomisation should mean that individual differences between the two groups are equally distributed (for example prior work experience will vary amongst individuals but there should be mix of people who have more or less experience within the intervention group and within the control group). For further information, please contact  Anneka Dawson
RCT Design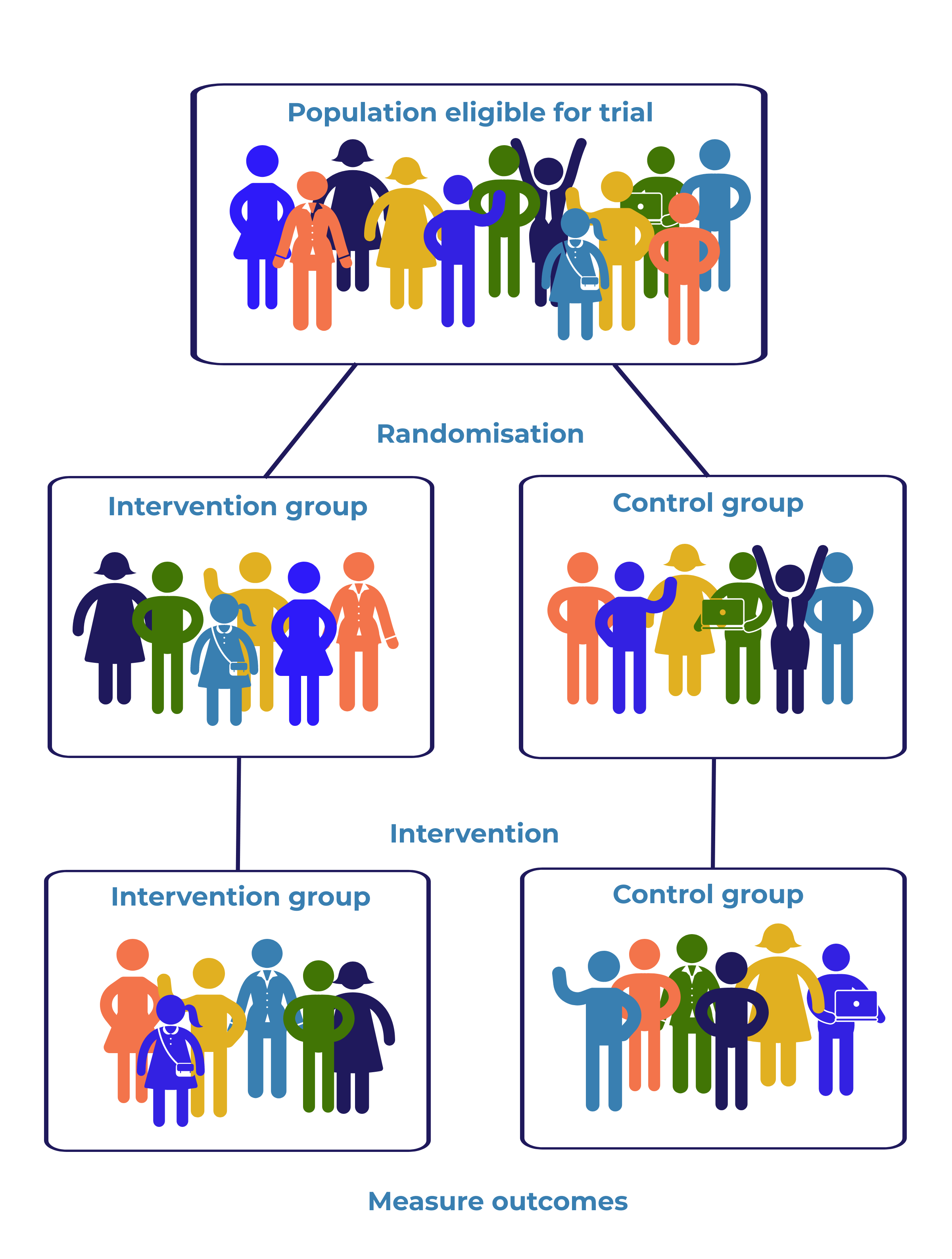 We have experienced staff equipped to support RCTs across all the crucial elements:
Impact evaluation- our team of economists including Helen Gray, Matt Williams and Charlotte Edney are able to undertake randomisation (including using stratification and minimisation techniques), compliance analysis, cost analysis and impact analysis including multilevel modelling.
Implementation and process evaluation- from developing a theory of change through a wide range of qualitative and quantitative methods (including observations, surveys, remote and in-person interviewing, webinars and workshops) and analysis, our team are fully equipped to provide a range of support to projects. Our key IPE specialists are Becci Newton, Anneka Dawson, Rosie Gloster, Alison Carter, Joy Williams, Clare Huxley and Ceri Williams
Our staff are experienced at managing RCT projects to the highest standards and following recommended CONSORT guidelines including registering trials on the appropriate trials' websites (such as ISRCTN or the Open Science Framework). We produce protocols to describe the methodology, measures and timeline for the projects and statistical analysis plans to outline our approach to using the data so there is an open and rigorous approach to our work. We understand and follow the latest data protection guidelines such as GDPR for producing data sharing agreements, data protection impact assessments, legitimate interest assessments, privacy notices and ensuring secure methods of data transfer and storage. We have critical standards for quality assurance at all stages of production of research materials, analysis and reporting.
We also regularly advise clients on the best approach to research design which can include both RCTs and quasi experimental methods of the highest standards and we are happy to help clients with their early thinking about what would work for their projects - please do get in touch with Anneka Dawson  to discuss this option further.
Related projects
Additional projects are highlighted in the sidebar to the left. 
We also advise on whether RCT's are appropriate methodologies with feasibility projects such as: